Posted in: News, Trivia Q & A | No Comments | Posted on June 13, 2022 by Mary Anne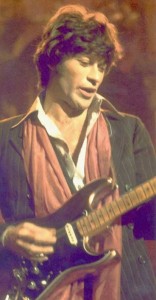 Q.  Where was Robbie Robertson born?
A.  Toronto Ontario Canada
Robertson was born Jaime Robert Klegerman in Toronto, Ontario, Canada.  His mother, Rosemarie Myke Chrysler, was of "predominantlyMohawk descent" ] His father was Alexander David Klegerman, who died when he was a child, and his mother re-married to James Patrick Robertson, who adopted Robbie and whose surname Robbie took.  He had his earliest exposure to music at Six Nations of the Grand River First Nation, where he spent summers with his mother's family.
By 1958, Robertson was performing in various groups around Toronto, including Little Caesar and the Consuls, Robbie and the Robots, and Thumper and the Trambones. By 1959 he had met singer Ronnie Hawkins, who led a band called The Hawks. In 1960 Hawkins recorded two early Robertson songs, "Hey Boba Lu" and "Someone Like You" on his Mr. Dynamo LP. Robertson then took over lead guitar with The Hawks and toured often, before splitting from Hawkins in 1963. Robertson's skill on his instrument continued to increase, leading Howard Sounes to write, "By twenty-two, he was a guitar virtuoso."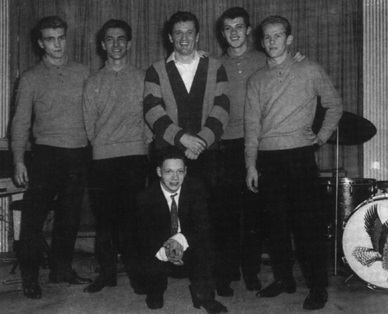 Ronnie Hawkins and the Hawks, 1960.  From left: Stan Szelest, Rebel Payne, Hawkins, Robbie Roberston, and Levon Helm. Band mascot Freddie McNulty in front.  After Robertson left Ronnie Hawkins, along with Levon Helm, Richard Manuel, Rick Danko, and Garth Hudson, the quintet styled themselves Levon and the Hawks, but, after rejecting such tongue-in-cheek names as The Honkies and The Crackers, as well as the Canadian Squires—a name the record label called them and that they immediately hated—they ultimately called themselves The Band.
Bob Dylan hired The Hawks for his famed, controversial tour of 1966, his first wide exposure as an electrified rock and roll performer rather than his earlier acoustic folk sound. Robertson's distinctive guitar sound was an important part of the music; Dylan famously praised him as "the only mathematical guitar genius I've ever run into who doesn't offend my intestinal nervousness with his rearguard sound." Robertson appears as one of the guitarists on Dylan's 1966 album Blonde on Blonde.
Martin Scorsese was hired to direct The Last Waltz,
the movie, based on his use of music in Mean Streets. The two were housemates during the editing of The Last Waltz and became friends. Robertson went on to compose the musical score for his 1980 film Raging Bull, and in the years since the two have been frequent collaborators. Robertson would later work on Scorsese's movies The King of Comedy, The Color of Money, Casino, The Departed, Gangs of New York, and provided music supervision for Shutter Island, The Wolf of Wall Street, and Silence which is in pre-production.
Robertson was ranked 59th in Rolling Stone magazine's list of the 100 Greatest Guitarists of All Time.  The Band has been inducted into the Rock and Roll Hall of Fame and the Canadian Music Hall of Fame.  As a songwriter, Robertson is credited for such classics as "The Weight", "The Night They Drove Old Dixie Down", "Up On Cripple Creek", "Broken Arrow" and "Somewhere Down the Crazy River", and has been inducted into the Canadian Songwriters Hall of Fame.