Posted in: News, Trivia Q & A | 1 Comment | Posted on January 23, 2022 by Mary Anne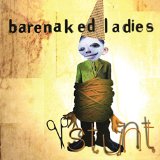 Q. In 1998, "One Week" reached Number One for (appropriately) one week in the U.S. and quickly became a karaoke singer's nightmare due to the ridiculous speed of some of its lyrics. What Canadian band brought us "One Week"?
A. Barenaked Ladies didn't actually have any ladies in the band, but they did have a very nice cult following. They gained a bit of a resurgence internationally when they were chosen to record the theme song to the CBS comedy, "The Big Bang Theory".
In 1999, American parodist "Weird Al" Yankovic recorded a parody titled "Jerry Springer", about a man's strange obsession with The Jerry Springer Show, for his album Running with Scissors.
The song has been featured numerous times in other media, including the films Digimon: The Movie, American Pie, 10 Things I Hate About You, the band appear to perform it live in "College Kids", an early season 4 episode of The West Wing, the video game Alvin and the Chipmunks, and in the video game Rock Band Blitz, and in an ad for Mitsubishi Lancer, which featured teens trying to sing the song but being unable to keep up with the fast rapping at some points.