Posted in: News, Trivia Q & A | No Comments | Posted on November 13, 2021 by Mary Anne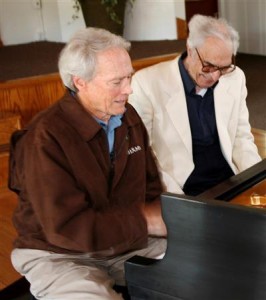 Q. What famous actor has also composed sountrack scores for movies such as Mystic River, Million Dollar Baby and True Crime?
A. Clint Eastwood
Eastwood favors jazz (especially bebop), blues, classic rhythm and blues, classical, and country-and-western music; his favorite musicians include saxophonists Charlie Parker and Lester Young, pianists Thelonious Monk, Oscar Peterson, Dave Brubeck, and Fats Waller, and Delta bluesman Robert Johnson. He is also a pianist and composer. Jazz has played an important role in Eastwood's life from a young age and, although he never made it as a professional musician, he passed on the influence to his son Kyle Eastwood, a successful jazz bassist and composer. Eastwood developed as a boogie-woogie pianist early on and had originally intended to pursue a career in music by studying for a music theory degree after graduating from high school. In late 1959 he produced the album Cowboy Favorites, released on the Cameo label.

Eastwood has his own Warner Bros. Records-distributed imprint Malpaso Records, as part of his deal with Warner Brothers, which has released all of the scores of Eastwood's films fromThe Bridges of Madison County onward. Eastwood co-wrote "Why Should I Care" with Linda Thompson and Carole Bayer Sager, which was recorded by Diana Krall.

Eastwood composed the film scores of Mystic River, Million Dollar Baby, Flags of Our Fathers, Grace Is Gone, Changeling, Hereafter, J. Edgar, and the original piano compositions for In the Line of Fire. He wrote and performed the song heard over the credits of Gran Torino.  The music in Grace Is Gone received two Golden Globe nominations by the Hollywood Foreign Press Association for the 65th Golden Globe Awards. Eastwood was nominated for Best Original Score, while the song "Grace is Gone" with music by Eastwood and lyrics by Carole Bayer Sager was nominated for Best Original Song.  It won the Satellite Award for Best Song at the 12th Satellite Awards. Changeling was nominated for Best Score at the 14th Critics' Choice Awards, Best Original Score at the 66th Golden Globe Awards, and Best Music at the 35th Saturn Awards. On September 22, 2007, Eastwood was awarded an honorary Doctor of Musicdegree from the Berklee College of Music at the Monterey Jazz Festival, on which he serves as an active board member. Upon receiving the award he gave a speech claiming, "It's one of the great honors I'll cherish in this lifetime."