Posted in: News, Trivia Q & A | No Comments | Posted on November 20, 2021 by Mary Anne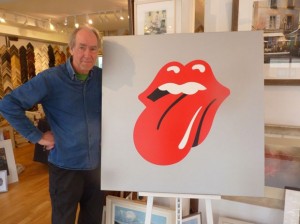 Q. Who designed The Rolling Stones tongue logo?
A.  John Pasche
Pasche designed the "Tongue and Lip Design" logo in 1971, which was originally reproduced on the Sticky Fingers album. In August 2008, the design was voted the greatest band logo of all time in an online poll. In what was perhaps one of the first cases of rock brand marketing, Jagger reportedly approached the Royal College of Art in 1969 looking to commission images for the band. Pasche designed the logo and ended up working for the Stones from 1970 to 1974. "Face to face with him ( Mick Jagger), the first thing you were aware of was the size of his lips and his mouth," Pasche said.  He also designed posters for many Rolling Stones tours, namely the European tours of 1970 and 1973, and the American tour of 1972. He made a promotional sticker for Goats Head Soup (the image being an actual pot of soup being made with a goat's head) and the single sleeve for the single "She's So Cold".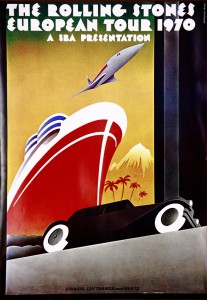 For the United Artists, Pasche has done considerable design work. Among these he has designed album and single sleeves, as well as concert posters for The Stranglers; The Raven (1979), The Stranglers IV (1979), La Folie (1981), Live (X Cert) (1979), "Duchess" (1979) and "Peaches" (1979). He created the single disc picture for Fischer-Z's "The Worker" (1979) and the album cover for Going Deaf For A Living (1980). He made the album cover for The Vapors 1980 album New Clear Days, as well as a 1979 Dr. Feelgood single, "As Long As The Price is Right"

Apart from this, he has also done some work for Chrysalis Records, mainly for Art of Noise (1985–87), Les Enfants (1985), Innocence (1990), Into Paradise (1991),Kingmaker (1991), and Jethro Tull (1987).

His freelance work includes designs for noted performers like Jimi Hendrix (1977), Judas Priest (1975), David Bowie (1976), The Who (1975), Van der Graaf Generator (1975) and the Bay City Rollers (1975)