Posted in: News, Trivia Q & A | No Comments | Posted on February 3, 2022 by Mary Anne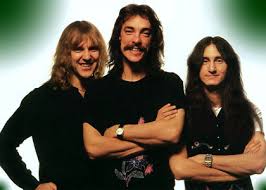 Q. Â This band is an all-Canadian trio that came together in 1969, with the only personnel change coming in 1974 when they signed on a new drummer. Two of the three members play under different monikers than their birth names. Which world famous group am I speaking of?
A. It's Rush I'm speaking of. In 1974, the band made their only personnel change when the original drummer, John Rutsey, had to leave the trio due to a serious illness. That opened the door for Neil Peart, whose addition to Rush is often cited as being "all they needed to become the best power trio ever". The other two members, Geddy Lee and Alex Lifeson, are the two members who use different names rather than their birth names. The lead guitarist, Lifeson, was born Alex Zivojinovic, while Lee was born Gary Lee Weinrib. In 2012 they released their twentieth studio album, "Clockwork Angels", which is testament to their prosperity as one of the best progressive rock bands in existence. With all of the awards and quality music they've put out, Rush's fans, as well as many in the music business, are perplexed as to why ***it has taken Rush 40+ years in the music business to have it announced that they will be FINALLY accepted into the Rock 'n Roll Hall of Fame!
And now - 2 of my personal favourite songs by Rush - brings back good memories of being newlyweds in 1975.