Posted in: News, Trivia Q & A | 1 Comment | Posted on February 16, 2022 by Mary Anne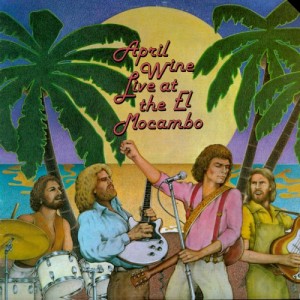 Q. In mid-1977, a band from Halifax, Nova Scotia, was booked to do a charity gig at the El Mocambo Club in Toronto. The co-headliner was The Cockroaches, a very famous band using a pseudonym  in hopes of minimize the riotous fanfare.  Who was the popular Canadian band that 'headlined' the show and who were The Cockroaches really? (Oooo what a night it must have been!)
A. April Wine was the Halifax band. The Cockroaches were The Rolling Stones.
April Wine's performance was captured and released as the album Live at the El Mocambo. The band got its first chance at touring the U.S. following the El Mocambo gig, first opening for The Rolling Stones, then for various popular headliners, including Styx and fellow Canadian band Rush.
It all began in Nova Scotia late in 1969. The Henman brothers, David and Ritchie, got together with their cousin Jim Henman and fellow musician Myles Goodwyn to form a band called April Wine, a name chosen simply because they were two words that sounded good together. Fifteen studio albums, three live releases, numerous compilations, a boxed set and thousands of concerts later April Wine has become enormously popular in Canada, the United States and throughout the world.
Live at the El Mocambo is the second live album by the Canadian rock band April Wine, released in 1977. the Stones also recorded part of their own live album Love You Live (1977). Live at the El Mocambo was produced and engineered by Eddie Kramer, best known for his work with the Stones, Jimi Hendrix, and Led Zeppelin. Partly owing to Kramer's input, the album features a somewhat more raw-sounding April Wine than most fans are used to from the band's more conventionally produced studio albums.