Posted in: News, Trivia Q & A | 1 Comment | Posted on February 29, 2022 by Mary Anne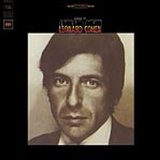 Q. This Montreal singer/songwriter first made his mark as a poet and novelist. His first major song hit was an account of his 1966 love affair with a young woman. He wrote it as a poem and Judy Collins urged him to set it to music. Who is he? And what was the song?
A. Leonard Cohen
Cohen had received critical acclaim as a poet and novelist but had maintained a keen interest in music, having played guitar in a country and western band called the Buckskin Boys as a teenager. In 1966, Cohen set out for Nashville, where he hoped to become a country songwriter, but instead he got caught up in New York City's folk scene. In November 1966, Judy Collins recorded "Suzanne" for her album In My Life and Cohen soon came to the attention of famed record producer John Hammond.
"Suzanne" was inspired by Cohen's platonic relationship with Suzanne Verdal, the then-girlfriend of sculptor Armand Vaillancourt. Its lyrics describe the rituals that they enjoyed when they met: Suzanne would invite Cohen to visit her apartment by the harbour in Montreal, where she would serve him Constant Comment tea, and they would walk around Old Montreal past the church of Notre-Dame-de-Bon-Secours, where sailors were blessed before heading out to sea.
Verdal was interviewed by CBC News's The National in 2006 about the song. Verdal says that she and Cohen never had a sexual relationship, contrary to what some interpretations of the song suggest. Cohen stated in a 1994 BBC interview that he only imagined having sex with her, as there was neither the opportunity nor inclination to actually go through with it. She says she has met Cohen twice since the song's initial popularity; once after a concert Cohen performed in the 1970s and once in passing in the 1990s when she danced for him, but Cohen did not speak to her (and possibly did not recognise her). Verdal never benefited financially from the song's enormous commercial success.
Cohen has stated that he was duped into giving up the rights for the song, but stated that he was glad it happened, as it would be wrong to write a song that was so well-loved and to get rich for it also.
Songs of Leonard Cohen is the debut album by Canadian musician Leonard Cohen, released in December 1967 by record label Columbia that had the hit song "Suzanne" on it. Its lyrics first appeared as the poem "Suzanne Takes You Down" in Cohen's 1966 book of poetry Parasites of Heaven, admittedly because of lack of new material. Lyrics to a few other songs from his subsequent 1967 debut album were also printed in the book.