Posted in: What's New | No Comments | Posted on February 12, 2022 by Grumpy
GRAMMY Award‐winning MCA Nashville country star Vince Gill has announced the release of his new studio album and lead single, "Take Me Down" featuring Little Big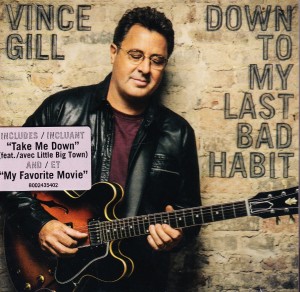 Town. Gill wrote/co‐wrote, co‐produced and is a featured musician on all 12 songs on Down To My Last Bad Habit which marks his first solo album since 2011's Guitar Slinger.
"Forty years into this, it's still as much fun as it's ever been to play music," notes Gill. "At the end of the day, what I get excited about is doing something I haven't done before. When I record a song, I feel successful if I've accomplished something new."
With 20 GRAMMY Awards to his credit, Gill has emerged as country music's most eloquent and impassioned champion  and has earned entry into the Nashville Songwriters Hall of Fame in 2005 and the Country Music Hall of Fame in 2007.
Gill has made guest appearances on over 500+ albums including Barbra Streisand, Eric Clapton, Willie Nelson, Dolly Parton, George Jones and more.
In February, Gill is set to reunite with Lyle Lovett for a 13‐city tour of acoustic shows