Posted in: What's New | No Comments | Posted on February 12, 2022 by Grumpy
Two days before Vinyl, the highly anticipated new HBO series from executive producers Martin Scorsese, Mick Jagger and Terence Winter bows on Feb. 14, Atlantic Records and Warner Bros. Records will release Vinyl: Music From the HBO Original Series - Volume 1 and the music will keep coming weekly throughout the show's 10-episode run.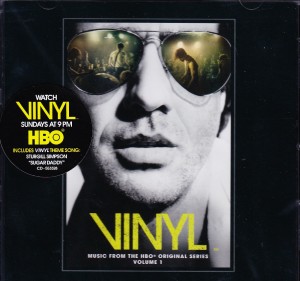 Atlantic partnered with sister label Warner Bros. on the project "to utilize the Warner Music Group catalog as a whole," Weaver says, though stresses that the musical selections on the show aren't limited to WMG's holdings.
"The idea has been to lean on our catalog and repertoire and our front-line roster in the best way possible, but always to serve the creative needs of the show first and foremost," he says.
Volume 1 features 18 tracks that appear in the premiere episode, ranging from songs from the period, such as The Jimmy Castor Bunch's "It's Just Begun" and Edgar Winter's "Frankenstein," to songs used in fantasy sequences and flashbacks like Ruth Brown's "Mama He Treats Your Daughter Mean" and Otis Redding's "Mr. Pitiful," and tunes performed by the characters, such as Nasty Bits' "Rotten Apple," written by James and Mick Jagger, Luis Felber and James Dunson.