Posted in: News | No Comments | Posted on November 2, 2021 by Mary Anne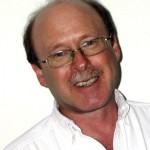 Sarnia First Friday, November 2019: Big Highway Gives Their Fiery Delivery A Return Visit To The Cheeky Monkey
by Brian Hay
Watching a good band play live is always a treat. When they're in top form it's even better. Whether the members of Big Highway were working harder to compensate the fact that lead vocalist James McNaule was fighting a cold or excited because their bassist Dave Johnston was about to become a Grandfather for the first time, or both (or neither) is impossible to say. Whatever the cause their delivery was powerful, often searing, and, at times, close to incendiary.
One factor that was clearly making them jump was the drumming of Ric Brown. His playing was crisp, tight and razor-sharp. On key beats his notes were so well centred that his mates seemed to be catapulted off of them. Brown's rhythm partner, Dave Johnston, was lock/step on everything he did, reacting intuitively and jumping ahead after the changes. It provided the floor the other band members needed and they ran with it.
Lead guitarist Andrew Germain delivered tasty passages throughout and picked up the rhythm parts when needed. He and singer/rhythm player [James] McNaule also periodically wove lead ornamentations together before doubling up on the rhythm playing for the choruses. It was great effect, and one that was made better with the sharp punctuation provided by rhythm players Brown and Johnston.
The fact that vocalist James McNaule was fighting a cold came as a complete surprise because it didn't seem to hamper his performance at all. His pitch was flawless and he literally belted songs out with no visible signs of strain for their entire show. Numbers like 'Meet Virginia' by Train and 'Transformation' by the Tragically Hip came off with power and without a hitch. When his bandmates, Andrew Germain and Dave Johnston, picked up the harmony singing the feel was of a single entity pushing forward in a wave.
Their set featured a lot of songs by Canadian artists such as the Tragically Hip, Big Sugar and singer/songwriter Matt Mays. That material was a good fit for their style for a number of reasons. The timbre of McNaule's voice and his phrasing are very similar to that of the late Gord Downie. The work of the guitarists has the same leanings. That combination, along with their too-hot-for-words rhythm section, gives them a sound reminiscent of the better Canadian bands from the last few decades.
Their tightness and fiery delivery makes them a good choice to keep that proud tradition going.
For more photos taken by Brian Hay click HERE