Posted in: What's New | No Comments | Posted on July 20, 2022 by Grumpy
Featuring eight tracks from the popular anime show "Attack on Titan" this new ep from symphonic metal masters Epica is a fresh take on some of the show's most popular tracks, all rewritten and adapted to Epica's distinct and powerful sound.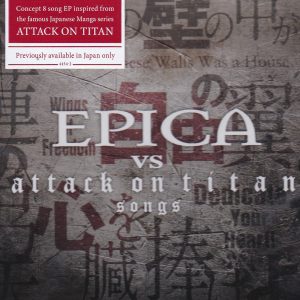 Formed in 2002 Epica has released seven full length releases, three live records, and one ep, last year's successful "The Solace System". Throughout the band's time they have experimented with and interwoven aspects of symphonic metal and gothic imagery with prog, thrash and power metal.
Epica's previous full length, 2016's "The Holographic Principle", became one of the bands most popular albums. The band has toured North & South America on multiple occasions.