Posted in: Entertainment NEWS, Friends & Neighbours, Local Talent, News | 1 Comment | Posted on September 29, 2021 by Mary Anne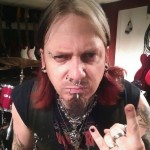 Our talented friend Dwayne Cloes has been busy once again with his video camera. A while back, he did a documentary on Cheeky Monkey called "The Last Record Store." CLICK HERE to view.
Now he has trained his lens on local musician D'Arcy Krumholtz. The film is a work in progress, but just this first part is inspirational to say the least. Give it a look and watch for more to come.