Posted in: What's New | No Comments | Posted on August 10, 2021 by Grumpy
As Mraz's first full-length studio recording in over four years, Know. serves as a follow-up to his 2014 LP YES!. The bulk of the album was written against the backdrop of the 2016 Presidential election and its aftermath, where Mraz found himself writing a great deal of "frustrated, angry, even sad songs, but nothing I wanted to sing." Instead he chose to convey an uplifting, positive message – a tone that is evident throughout.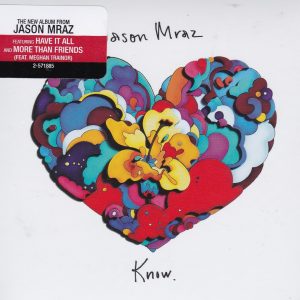 Mraz introduced the album's theme with the current smash single, "Have It All," originally conceived after Mraz received and translated a blessing from a Buddhist monk during a personally moving visit to Myanmar in 2012. Other notable songs include "Making It Up" — a collaboration with his songwriter friend Bob Schneider, and "Better With You," which was inspired by his marriage.
"As I thought about the next chapter, what kept occurring to me was the idea of being a songwriter in service," he says. "I feel like I've been awakened to a higher purpose with my music…For me, I want to help people tap into their feelings." It's a testament to the generosity of spirit in Mraz's music that so many people have chosen his songs as the soundtrack to major moments in their lives, and new memories are certain to be made with the songs on his upcoming sixth album.
On a musical level, producer Andrew Wells brings an organic and groovy feel to the album's classic, acoustic-rock sound.