Posted in: What's New | No Comments | Posted on November 13, 2021 by Grumpy
British pop superstars One Direction will be releasing their fifth studio album, Made In The A.M on November 13th 2015 via Syco/ Columbia Records. To announce the album release, the band released the surprise smash single "Drag Me Down", which featured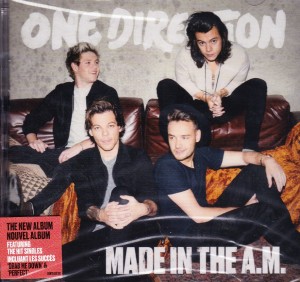 crashing guitars, soaring harmonies, and a more mature One Direction sound.
Hot on its heels, One Direction also released "Infinity," an epic and rousing slice of guitar pop written by John Ryan, Jamie Scott and Julian Bunetta, the team behind One Direction's massive hit "Story Of My Life." Continuing to showcase an evolved sound for the band, "Infinity" provides a taster of what to expect from the upcoming album. With
album sales of over 65 million worldwide and performances to over 7.5 million fans, One Direction truly are a pop phenomenon.