Posted in: Entertainment History, News, Trivia Q & A | No Comments | Posted on July 13, 2022 by Mary Anne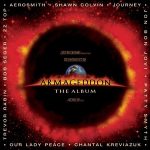 Q. What was the inspiration for the hit song "I Don't Want To Miss A Thing" by Aerosmith?
A. Songwriter Diane Warren found inspiration for this song after hearing about an interview where James Brolin said that when his wife Barbra Streisand was away, he missed her even when he was sleeping. When she set out to write a song for Armageddon, she thought this was a good sentiment to express, since the film deals with the impending destruction of all on Earth.
When Diane Warren wrote this song, she thought someone like Celine Dion would be singing it. She was surprised when the artist turned out to be Aerosmith, but it ended up working out quite well. "I remember being at the Sunset Marquis Hotel, and sitting at the piano with him and teaching him the song and just having chills all over my body as I heard the song come to life with his voice and knowing what it was going to be," she told Performing Songwriter about working with Steven Tyler on the song. "It was an amazing experience.