Posted in: Entertainment NEWS, Local Talent, News | No Comments | Posted on July 30, 2022 by Mary Anne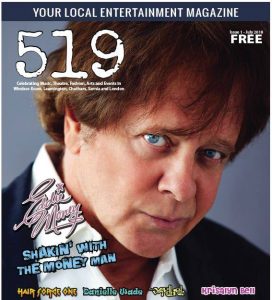 CHEEKY MONKEY NOW HAS 519 ENTERTAINMENT MAGAZINE FREE to pick up and enjoy!
This free monthly publication is the only entertainment magazine in the Detroit/Windsor area, with 25,000 printed copies available at select locations from Detroit to London.
519 features 12 digital issues per year and 6 print editions (June, August, October, December, February, April) featuring current and relevant artists, musicians, actors, theatres, writers, creators and publishers. From international touring stars to unsung local heroes, 519 is strong, proud and free - yes, you heard that right, free - there's no charge, unless you want one delivered to your home.
Giving you another reason to be proud to live in the 519.
Next issue will feature  stories and interviews with Cheap Trick, Heather Rankin, Toto, Fred Penner and Sarnia's own Eric Ethridge.