Posted in: What's New | No Comments | Posted on April 8, 2022 by Grumpy
Leon Russell Celebrated His 72nd Birthday on April 2
"Nearing the close of my adventure, I feel that I may be the luckiest guy in the world." – Leon Russell
Life Journey features newly‐written original songs and Russell's turns on classics that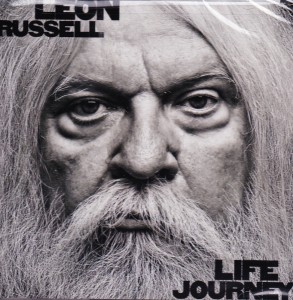 resonate with the two‐time GRAMMY® winner as important to his musical trajectory. Recorded and mixed by Al Schmitt at Capitol Studios, the album is produced by Tommy LiPuma and executive produced by Elton John, with whom Russell most recently collaborated for 2010's critically acclaimed album, The Union.
"This is a record of my musical journey through life," Russell writes in a package essay for Life Journey. "It reflects pieces of things that I have done and things I never did, for one reason or another."
One of popular music's most celebrated songwriters and performers, Russell's songs have hit the charts across several genres and have been covered by a diverse range of artists. Ray Charles recorded "A Song For You," B.B. King had a hit with "Hummingbird," The Carpenters with "Superstar," and Joe Cocker with "Delta Lady." George Benson won 1976's Record of the Year GRAMMY® Award for his cover of Russell's "This Masquerade" and it became the first song in music history to hit No. 1 across the jazz, pop, and R&B charts. In 2011, Russell was inducted into the Rock and Roll Hall of Fame and the Songwriters Hall of Fame.
On Life Journey, Russell celebrates the songs of 10 other writers, infusing them with the vibrant bounce and spirit that has long been his signature. Russell opens the album with Robert Johnson's "Come On In My Kitchen," leading a tour of his majestic musical house that continues with Hoagy Carmichael and Stuart Gorrell's "Georgia On My Mind," Haven Gillespie and Beasley Smith's "That Lucky Old Sun," John Davenport and Eddie Cooley's "Fever," Mike Reid's "Think Of Me," Duke Ellington and Paul Francis Webster's "I Got It Bad & That Ain't Good," Herb Magidson and Allie Wrubel's "The Masquerade Is Over" (featuring a lush orchestral arrangement, a wistful glance back to Russell's own "This Masquerade"), Paul Anka's "I Really Miss You," Billy Joel's "New York State Of Mind," and Johnny Fuller, Robert L. Geddins, and David Rosenbaum's "Fool's Paradise."
Other musicians who joined Russell to record Life Journey include Robben Ford, who played guitar on "That Lucky Old Sun" and "Fool's Paradise," Jeff Hamilton and John Clayton, who played drums and bass on "The Masquerade Is Over," "Think Of Me," and "I Really Miss You," respectively, with Anthony Wilson on guitar for "The Masquerade Is Over" and "I Really Miss You." Greg Leisz played pedal steel guitar on "That Lucky Old Sun," "Think Of Me," and "I Really Miss You," Larry Goldings played Hammond B3 organ on "That Lucky Old Sun," "Fever," "Think Of Me," and "Fool's Paradise," and the Clayton Hamilton Jazz Orchestra played on "Georgia On My Mind," "I Got It Bad & That Ain't Good," and "New York State Of Mind."