Posted in: Entertainment History, News, Trivia Q & A | No Comments | Posted on July 30, 2022 by Mary Anne
August 3
~ 1968 - The Doors top the charts with "Hello I Love You"
~ 1963 - James Hetfield of Metallic fame is born
August 4
~ 1967 - Pink Floyd releases their debut album - The Piper At The Gates of Dawn
~ 1901 - Louis Armstrong is born
August 5
~ 1975 - Stevie Wonder signed a $13 million contract to cover seven years. The contract was the largest contract in the recording industry at the time.
~ 1980 - The Osmonds split up
August 6
~ 1940 - Columbia Records cut the price of its 12-inch classical records. The records were priced $1.00. RCA Victor followed two weeks later.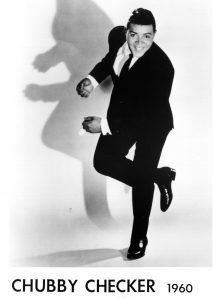 ~ 1960 - Chubby Checker performed "The Twist" on American TV for the first time on "American Bandstand."
Chubby Checker (birth name Ernest Evans; October 3, 2021) is an American rock n roll singer and dancer. He is widely known for popularizing many dance styles including the twist dance style, with his 1960 hit cover of Hank Ballard's R&B hit "The Twist" and the Pony with hit "Pony Time". In September 2008 "The Twist" topped Billboard's list of the most popular singles to have appeared in the Hot 100 since its debut in 1958. He also popularized the "Limbo Rock" and its trademark limbo dance, as well as various dance styles such as The Fly.
August 7
~ 1958 - Bruce Dickinson of Iron Maiden fame was born
~ 1999 - Violence erupted outside a Dave Matthews Band concert in Hartford, CT. 55 arrests were made in the parking lot of the Meadows Music Theater
August 8
~ 1923 - Benny Goodman, at the age of 14, took a job as a clarinet player on a Chicago-based excursion boat on Lake Michigan.
~ 1970 - Janis Joplin bought a headstone for the grave of blues singer Bessie Smith. Smith was one of Joplin's idols.
August 9
~ 1963 - Whitney Houston was born
~ 1995 -Gerry Garcia passed away